Professional Development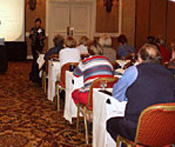 Professional development on a variety of topics is available through Educational Enterprises, Inc. The topics, format and number of hours can be tailored to the needs of the sponsoring organization. Available topics include behavior management, learning strategy training, organizational strategy training, assessment, learning disabilities, attention disorders and general education strategies for individuals with special needs.
If using the book Strategies for Learning, Empowering Students for Success, Grades 9-12 (a reduced price for copies of the book is available), teachers can learn how to implement the award-winning learning strategy program Independent Strategies for Efficient Study. Variations of the program are available for middle and upper elementary levels.
Professional development and workshops are designed and scheduled for the convenience of the sponsoring agency. Fees are determined on an individual basis based on time requirements, expenses and materials involved.
Dr. Rooney is also happy to do shorter presentations as community outreach, and can speak at meetings sponsored by local PTA organizations, schools or community agencies.
For more information or to schedule, call (804) 747-1883 or email edenterinc@aol.com.